Profile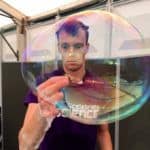 Dan Day
My CV
Education:

Sir John Leman High School, Beccles

University of Leicester

Durham University

Qualifications:

10ish GCSEs

3 A levels (2 Bs and a C)

Masters Degree in Chemistry

PhD in Soft Matter Science

Employer:
About Me:

I live with my wife in York and I make biodegradable plastics. In my spare time I like to play basketball, tennis and football. Will answer ANYTHING if you have a photo of a dog…and even if you don't to be honest

Read more

I got married in July and am still buzzing from it. We have made it 2 months so far without getting divorced! I am super tall (6 ft 8 in) so none of my clothes fit and I am constantly hitting my head on things. I am a big fan of basketball and football, and have recently taken up playing tennis, which is still a work in progress! I love cooking and am always on the lookout for new recipes

My pronouns are:

He/His/Him

Read more

Most plastics are made from fossil fuel sources, of which there are limited resources which will run out in the next few decades. We aim to make plastics from natural sources such as sugars in biomass which is typically left over when food is harvested from crops. We are also aiming for our plastics to have better end-of-life options. Biodegradation and/or recycling offers a greener solution to landfill or incineration of waste materials and prevents harmful materials getting into the environment where they can be consumed by animals.

My Typical Day:

I wake up when I can be bothered. Head to the lab around 8am to set up some experiments. Meetings in the afternoon and I usually go home around 5.

Read more

I normally wake up between 7 and 8, and walk to work.  I set a few reactions going which typically take a few hours so I then have time to discuss ideas with people and read about some other science that people round the world are currently doing. Chatting science with friends over a coffee is one of the best ways to come up with new ideas. Head home around 5. Play some tennis with my wife and then cook dinner

What I'd do with the prize money:

Create more publicly-available resources for spreading the message about our recyclable and biodegradable plastics. We have discussed making videos and making props to take with us on future activities to help explain the really simple chemistry that is taking place

My Interview

How would you describe yourself in 3 words?

Tall Green Chemist

What did you want to be after you left school?

A medical doctor

Were you ever in trouble at school?

Yes, mostly for talking back to teachers

If you weren't doing this job, what would you choose instead?

Chef or fire fighter

Who is your favourite singer or band?

Jade Bird or Biffy Clyro

What's your favourite food?

Thai food

If you had 3 wishes for yourself what would they be? - be honest!

Be happy. See more of my family and friends. Clothes that fit.

Tell us a joke.

What's the fastest milk in the world? Past your eyes!
---
---
---